Elevate your HR career and become a true strategic partner
Announcing the Summer 2023 Program!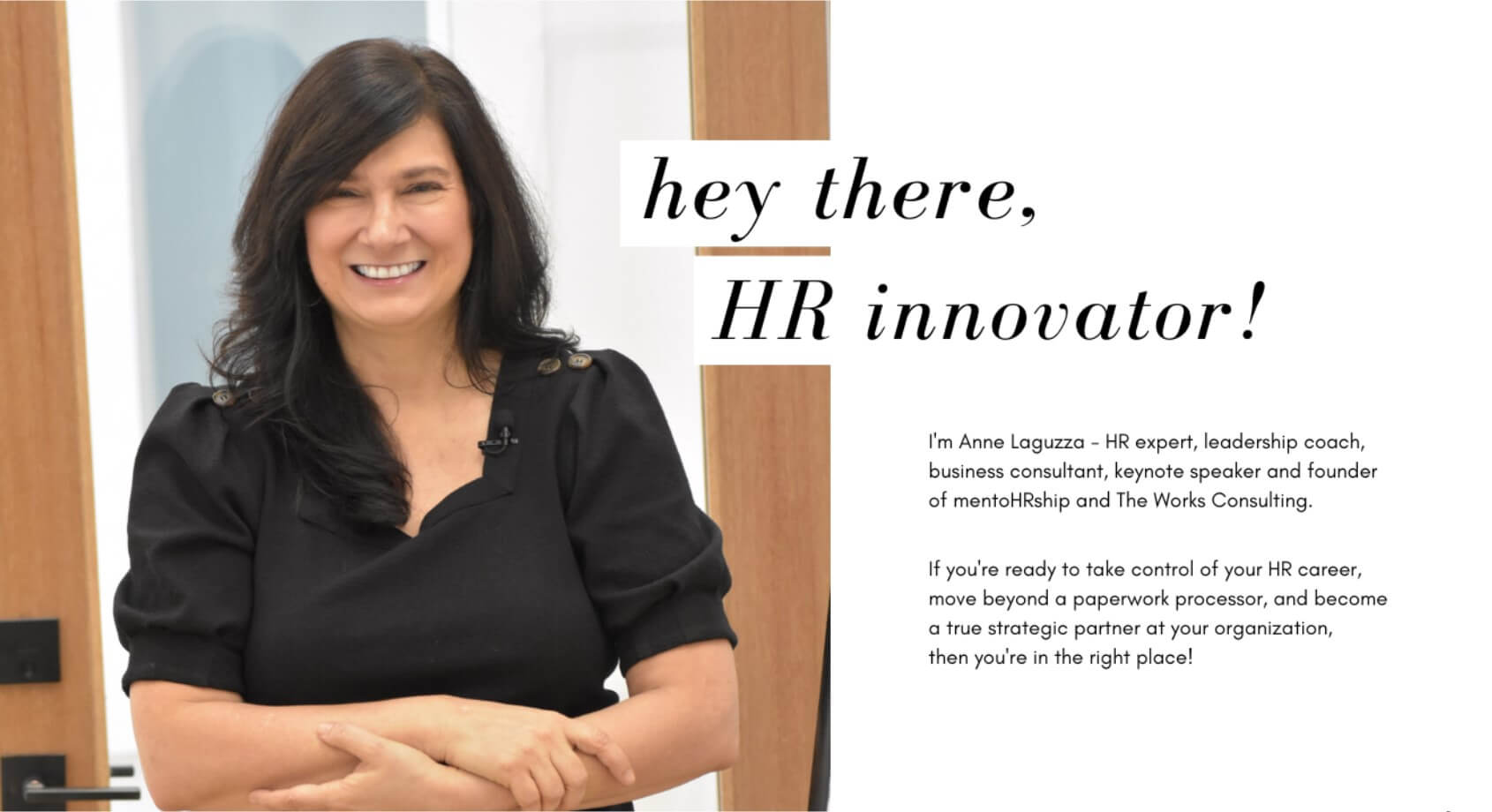 Not a another certification program on new laws…
Human Resources is an amazing career, but you really do have to fight for the acknowledgement it deserves.
I created mentoHRship after 30 plus years in the field because I saw so many HR professionals end up stuck processing paperwork and being the "no police" when they have the potential to be so much more, to bring so much more value to their organizations, but lacked the tools.
mentoHRship isn't another certification program on employment laws. mentoHRship provides the community and tools to build upon the foundation of your career and learn the needed skills to become a true strategic partner to the leadership within your organization.
You have so much value to offer. Join mentoHRship to elevate your HR role.
Who is mentoHRship for?
HR professionals who want to provide greater value to their organizations, be a strategic partner, and elevate their role. mentoHRship is specifically designed for:
One-person HR departments

New HR professionals
What is mentoHRship?
mentoHRship is a virtual program that features a unique combination of 6 LIVE small group coaching sessions (only 8 applicants selected for each term!) and 2 one-on-one private coaching calls with human resources and leadership expert, Anne Laguzza.
Anne thoughtfully and strategically selects 8 HR professionals from the pool of applicants to create the most productive group coaching sessions and assembles the most supportive community for growth.
The 6 live small group coaching sessions:
Cover only the most crucial topics with practical, immediate applications for the department of one or new HR professionals to enhance their careers
Always feature a Q&A where participants receive the opportunity to get their most burning HR questions answered and helpful solutions offered by peers and Anne
Include weekly accountability questions that challenge and support further growth
As a part of mentoHRship, the 8 selected applicants also receive the added bonus of 2 one-on-one private coaching calls with Anne to maximize their learning and achieve where they want to be as a professional faster.
Together through mentoHRship, we'll tackle some of the biggest challenges that HR professionals face today and you'll learn how to navigate them from the best.
Why join mentoHRship?
As a department of one or a new HR professional, you can often feel like you're on your own in your organization. You may feel like your role is not taken seriously when compared to other aspects of the business. You're likely craving a community – other people in your field who can empathize with your challenges and share how they've tackled them in their own work settings.
Perhaps you know deep down that you could bring so much more to your company. Maybe your confidence level isn't where you would like it to be. You might know there's a change you could make, but you're not sure where to start. This is where mentoHRship comes in.
Anne Laguzza, CEO of The Works Consulting, has walked in your shoes. She has a passion for mentoring new HR professionals and HR departments because she started her career in these exact situations and has since mentored many HR professionals just like you. She knows the difference that good coaching and support can make toward elevating HR pros to be some of the most valuable members of their organizations.
That's why she's willing to offer much of the same information and guidance you'd receive during her private coaching sessions at a fraction of the cost in this small group setting.
The driving force behind mentoHRship is Anne's commitment to elevating the field of HR by providing professionals with affordable access to expert insights and a supportive community.
mentoHRship isn't about compliance. It's about becoming an integral part of your organization and taking a seat at the leadership table. mentoHRship will not only give you the skills you need to get there, but it will help you learn what to do once you are.
With mentoHRship, you'll be getting:
Proven guidance that will help you elevate your role as an HR professional
Practical applications that you can immediately apply in your work environment
Interaction with other dedicated HR professionals within a small class setting (only 8 applicants will be accepted for each term!)
An open forum to share challenges and obtain support to help you grow
A monthly "hot seat" to work through your specific challenges with the group
Weekly Q&As with Anne
BONUS – two private, 30-minute one-on-one coaching sessions* with Anne ($$ value!)
*During these one-on-one coaching sessions, mentoHRship members gain unique access to Anne Laguzza. Members will be able to elevate where they're at and receive personalized guidance on how to get where they want to be. The calls can be spent discussing challenges you can't receive feedback on from anyone else and brainstorming effective solutions.
The FAQ
You want to join but you have questions…Here's answers to some frequently asked questions about this transformative program:
Do I have to be in California to join?

No! The valuable information covered in each of the sessions is not limited by geography or local or state laws (mentoHRship isn't a law update course!) so any new HR professional or HR department of one from any location can benefit. Members only need internet access to attend virtual group sessions.

But I really need to be updated on laws. Can this program help me?

Information on new laws is readily available for all HR professionals to access. The guidance that this program provides is not readily available anywhere else. This program elevates your career, enhances your HR role and makes you a more confident, valuable contributor at your organization.

I'm not in HR, but I want to pursue a career in HR. Can I still join?

No. mentoHRship is designed specifically for professionals who are currently working in the HR profession, specifically those who are new in Human Resources OR someone who operates as a one-person HR department. During each session, there will be an open forum where members can discuss current HR challenges they're facing and obtain support from group members in discovering solutions. All members contribute so all members need to be currently working in the HR field.

Why is 8 a.m. the start time?

mentoHRship is designed for people who are committed to growth. Have you ever heard of the "eat the frog" principle? We start earlier in the day so that there is no reason to miss our commitment to show up and learn.

Will there be recordings made available of the sessions if I can't attend live?

No. One of the many benefits of this program is the live interaction members have with each other during each session so no recordings are made. If you apply to join, you're committing to show up for each session to grow as a professional yourself and participate in supporting others growth, too.

What about the cost? mentoHRships costs more than other HR programs.

We've heard this comment before. We'd love to ask a question in return – what program are you comparing mentoHRship to? You won't find a program like mentoHRship anywhere else. Our members say that the value mentoHRship delivers in a short impactful program far exceeds the cost. And if you calculate it out, individual coaching programs like this cost at least 3x that of mentoHRship. You get all the benefits of working with an experienced HR leader and the opportunity to cost share with your peers to gain the tools you need to elevate your HR career.
For Employers
Your HR coordinator, HRIS or HR manager has requested your support in applying for mentoHRship, and you're wondering what value will it bring you and your organization. We can help!
Here is just a few points explaining the incredible ROI that you'll see from your HR professional after they complete mentoHRship:
A confident strategic partner in reaching business goals
An HR professional who understands how to align HR processes to support all business functions
A contributing member of the management team
A "go-to" solutions-oriented resource for the entire team
Still have lingering questions about sponsoring mentoHRship tuition? Don't hesitate to reach out! Email your questions to solutions@theworksconsulting.com.
Testimonials
"As a result of joining mentoHRship, I was able to take charge in my role as a leader. I feel more confident and excited for future opportunities to better my company. Anne and I even decided to keep our one-on-one coaching sessions going for 3 more months because I loved it so much!"
-mentoHRship alumni
"Before [mentoHRship], I struggled with finding my voice in HR. I had ideas and thoughts on what should be done in certain situations, but I was too afraid that my opinion or input did not matter. Anne's mentoHRship program showed me that I am valuable not only in HR but also as part of the organization I work for. Her guidance has allowed me to speak up and solidify my place in the HR department."
-mentoHRship alumni
"Prior to enrolling into the mentoHRship program, I struggled with understanding my identity as a Human Resources professional. This profession is extremely complex, because you need to navigate a vast array of subject matters that encompass the full life cycle of employment. The mentoHRship program covered the topics in a way that was easy to understand; and more importantly, it allowed the participants to connect with other HR professionals. The program creates a safe space where you can share ideas, struggles, and grow together."
-mentoHRship alumni
"Hearing the stories and day-to-day struggles of other department-of-ones was extremely helpful. I gained a group of HR peers I can connect with – a group working in similar fields and similar-sized organizations, which as a non-profiter isn't always easy to find. But my biggest takeaway [from mentoHRship] is how to start and continue conversations with my supervisor that will help me elevate myself and my career."
-mentoHRship alumni
How It Works
Applications Open – Deadline to submit is June 16 (Don't delay! Spots will fill up quickly!)
Applications are reviewed and only 8 applicants are selected
6 bi-weekly virtual group coaching sessions begin!
mentoHRship members schedule 2 individual coaching sessions
Members become part of the mentoHRship alumni network
Summer 2023 Session topics include:
July 14 – So you want to be in HR?
July 21 – Developing your HR brand
July 28 – How HR supports the business
August 4 – How to best build a productive relationship with your supervisor
August 11 – How to brag without bragging
August 18 – Say yes to everything!
NEW THIS YEAR *BONUS SESSION* July 26 11a-12p PT – mentoHRship Alumni Q&A session
mentoHRship Summer 2023
Dates: July 14, July 21, July 26, July 28, Aug. 4, Aug. 11, Aug. 18
Time: 8:00 a.m. to 9:00 a.m. PST
Location: Virtual
Cost: $1,500
Ready to elevate your HR career? Apply below!
Deadline for submission is June 16 (Don't delay! Spots will fill up quickly!)