2021 Keynote Speaker Long Beach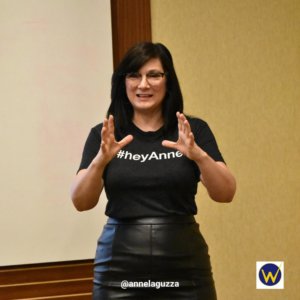 Are you planning your company events and need a 2021 keynote speaker in Long Beach? The right speaker for your workshop or event can inspire your team and re-ignite your leadership goals. Here's what to consider when planning your event to find the best leadership speakers around Long Beach and beyond.
Research Keynote Speakers Long Beach
The best public speakers should approach your topic and group with confidence and deep expertise. Business topics can feel boring or uninspiring if not done well from a speaker. With the right approach, your 2021 leadership development speaker in Long Beach will design a workshop or topic around your team's goals. Ask your speaker:
What topics are most exciting for you to discuss in a Keynote speech?

How will you captivate our audience?

What are your methods for making everyday business topics enjoyable?

What experience do you have that will resonate with our team?
Request a discovery call or consultation with Anne Laguzza of The Works Consulting in Long Beach to inquire how she approaches speaking engagements. Be sure to provide details about office culture and obstacles. This will help bring clarity for the speaker ahead of time for your next event. Before you move forward with any speaker, ask for a reel or clips of previous engagements, as well as their social media. 
Define Your 2021 Speaking Event Goals
Your 2021 keynote speaker in Long Beach should understand your event's goals and what you hope to accomplish. Consider working directly with your speaker to determine the best outcome for your event. Here are some questions to ask your prospective keynote speaker:
Will the keynote speaker help identify and solve a problem during the 2021 event?

Can the speaker simplify and quickly parse information to empower my team to take action?

How will the keynote speaker address my team as an organization?
Provide as much information to your keynote speaker as possible to clarify your goals. The more you can identify what you hope to accomplish, the more likely you are to realize success. 
Consider the Needs of Your Team
One of the fastest ways to develop your meeting or event is to ask your team for feedback. What are they struggling with? What do they hope a 2021 keynote speaker in Long Beach will accomplish? 
The dynamic of your team should help shape the topic and content delivery. For example, a casual office will likely respond to an informal round-table discussion than a formal multimedia presentation. A more traditional business atmosphere may prefer a speaker who is accustomed to giving presentations to your target audience.
The goal is to avoid making a mistake in your speaker selection. Discuss your team's personality and the work culture with your speaker to give them an idea of what to expect and plan an appropriate presentation. 
Choose a 2021 Keynote Speaker
Companies of all sizes can benefit from a 2021 keynote speaker in Long Beach. Choose a speaker who has a background in providing tactical information that your Long Beach organization can take immediate action on.
Anne Laguzza of The Works Consulting offers leadership development and workshops that focus on maximizing the human capital within an organization. With her background as a Keynote speaker and leadership development amongst Long Beach businesses, she should be considered for your 2021 event. Strengthen your company's leadership to ultimately increase your most valuable employers' production, morale, and retention.
Keep in mind that reputable keynote speakers are often booked up months to a year in advance. Make sure to line- up your 2021 leadership development speaker in Southern California in advance. 
Consider the Current Trends
Evergreen, timeless leadership meetings are a popular option, but you should still consider the current trends. Be sure the keynote speaker can address today's remote workers' challenges even as it continues into 2021. Your speaker should be able to connect with current trends in business. Walkthrough any trends happening around the office, whether it's remote work, interviewing and onboarding struggles, or anything else to help enhance your event.
Ask Speakers About their Team Experience
The best speakers in Long Beach should have direct knowledge and expertise. Speakers who focus on fluffy advice and anecdotes won't come armed with actionable takeaways that empower your team to act. When Anne speaks to companies and groups, she offers a multidisciplinary approach that can integrate human resources, leadership development, and performance coaching. These are implemented together to create systems that help companies thrive. Teams should still feel supported and encouraged in the process.
Ready to hire your next 2021 keynote speaker in Long Beach? Come prepared with your list of questions and goals to book the best speaker possible for your event. Or contact Anne today to speak at your next event!