Keynote Speaker Southern California – Hire Anne Laguzza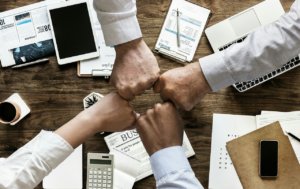 Are you ready to re-ignite your leadership goals with a Keynote Speaker in Southern California? Go straight to the expert.
Anne Laguzza helps companies focus on their core business to improve their workforce, employee retention, and develop strong leaders while streamlining their organizational processes.
Anne isn't like other keynote speakers in Southern California. She doesn't just deliver a presentation, she creates and conveys custom experiences that move her audience beyond motivation into action. Anne combines thought-provoking research to tackle urgent topics facing businesses today. Her real-life examples keep your audiences engaged and inspired to take action.
Keynote Speaker in Southern California Anne Laguzza Empowers Your Team
The best way to empower your team is by delivering actionable advice and deep expertise. When business topics don't resonate or feel unrelatable, the message falls flat. In the hands of the right speaker, your event will naturally inspire your team to take action. Business topics can prove dry or uninspiring in the hands of the wrong speaker. Ask your keynote speaker in Southern California:
How do you engage audiences that are stressed or dealing with difficult projects?

How do you make everyday business topics enjoyable to listen to?

Can you tell me more about your experiences that will resonate with our team?
Set Ambitious Event Goals
You don't need to plan a supercharged business event on your own. Your Keynote Speaker Southern in California should make recommendations on identifying and solving a pressing problem during your event. You can also solicit the help of your team and ask what is impacting their productivity and morale the most. Provide as much information to your speaker as possible to clarify your goals. The more you can identify what you hope to accomplish, the more likely you are to realize success. 
Embrace the Team Personality
If you're hoping to reignite your team's passion for work, consider their personality before planning an event. Is it a casual office that responds to intimate round-table discussion? Is it a corporate environment that requires a more comprehensive presentation and supporting multimedia materials? When your speaker understands how to connect with your team, they're more likely to prepare a presentation that speaks directly to them and inspires.
Choose a Keynote Speaker in Southern California
Tactile information matters. Anecdotes and fluffy advice only serve to superficially motivate without a way to actually meet the goals. The end result is frustration and the feeling that your team can't deliver. 
What about leadership? Without strong leadership, it's impossible to increase your most valuable employers' production, morale, and retention.. Ask your speaker about leadership development topics that maximize the human capital within an organization. 
In-demand, reputable Keynote Speakers in Southern California are usually booked up to a year in advance. Make sure to line-up your speaker and review your goals as quickly as possible. 
Request a discovery call or consultation with Anne Laguzza of The Works Consulting to inquire how she approaches specific topics for speaking events and engages audiences. Offering insights about office culture and struggles will help refine your goals and bring clarity to your next event. Before you move forward with any speaker, ask for a reel or clips of previous engagements, as well as references. 
Consider Business Trends
Generic topics don't feel authentic to audiences looking for answers. Evergreen topics don't necessarily translate to your business without going deeper. In today's current climate, more employees are working remotely than ever before. And leaders are often struggling to lead a team virtually and still see results while keeping their team happy. What kind of challenges is that presenting your team or leadership? Consider the unique struggles of your office from onboarding struggles to communicating efficiently as a team to enhance your event or workshop.
Ask Speakers About their Team Experience
The best keynote speakers in Southern California should have practical, direct knowledge and expertise. When Anne speaks to companies and groups, she takes a strong multidisciplinary approach that integrates human resources, leadership development, and performance coaching to create systems that help companies thrive. At the same time, teams should still feel supported and encouraged in the process.
Ready to hire your next keynote speaker in Southern California? Come prepared with your list of questions and goals to book the best speaker possible for your event. Or contact Anne today to speak at your next event!